First, I should disclose my bias: I just turned 51, no longer have 20/20 vision, and prefer text that is readable rather than text that makes me squint.
Don't make users squint
Font size in CSS can be specified in any of several size units, the most common of which are pixels (px), em, or %. The differences are clearly explained in Kyle Schaeffer's article CSS Font-Size: em vs. px vs. pt vs. percent.
In his 2006 article The 100% Easy-2-Read Standard, Oliver Reichenstein argued convincingly for using a font-size of 100%, which is the text size browsers use by default.
In 2011 D Bnonn Tennant's Smashing Magazine article 16 Pixels: For Body Copy. Anything Less Is A Costly Mistake expanded on Reichenstein's article and argued for using fonts that are at least 16 pixels, which is the default size in most browsers.
I don't know this for sure, but I like to believe that browser makers at some point in their histories did extensive usability testing to determine the optimum font size to use as their factory default setting. So I agree with Tennant that web pages should honor that standard. But there's a fundamental difference in Tennant's and Reichenstein's recommendations. Tennant is recommending 16 pixels, whereas Reichenstein is recommending 100%. For many users, these two units are the same since 16 pixels is the browser default. However, some people change the default font size in their browser. It's easy to do, right there in Preferences where folks can change all sorts of things like their browser's start page and whether to block pop-up windows. The screen shot below shows the Preferences dialog in Firefox, where users can select any of an impressive range of font size options, from 9 pixels to 72.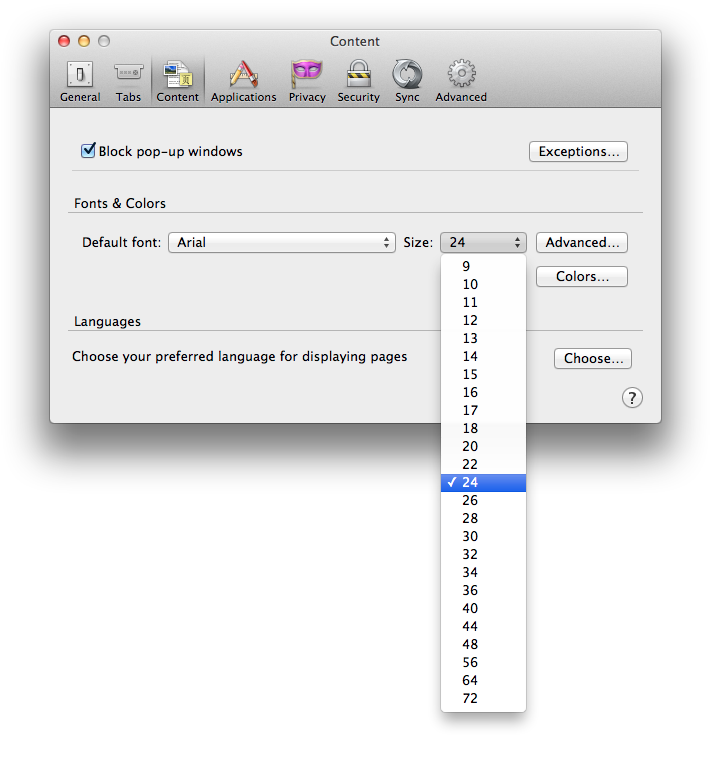 When users change their browser's default font size, either larger or smaller, it's because 16 pixels is not the optimum size for that person. They have a personal need or preference for text in a different size.
Continue reading