The idea for Peakware was spawned in 1994 on the summit of Mount Elbert, the highest mountain in Colorado and the second highest in the lower 48 states. This was was my first fourteener (mountains higher than 14,000 feet), and I was hooked. I loved the physical challenge of hiking more than 10 miles and climbing nearly 4,500 vertical feet in increasingly thin air. And the view from the summit was truly awesome. The entire Western United States seemed to be spread out before and below me in all directions.
I stood on the summit, taking in the views and wondering which mountains I would climb next. On this particular trip, I knew that I'd be climbing Mount Massive (Colorado's second highest) tomorrow, and La Plata Peak (fifth highest) the day after that. But then what? How much higher could I climb with the skills I had? And what were my best options for climbing in say, Mexico? And where could I climb in Winter when most of North America's high peaks were snowed in and no longer accessible?
In Summer 1994, these were difficult questions to answer. Hundreds of guidebooks had been published covering mountain ranges all over the world, but there was no single reference tool that consolidated all their information and made it easy to search. I had the need for a tool like this, and then and there, on the summit of Mount Elbert, I decided to create this tool.
I returned to my home in Lawrence, Kansas and immediately created a database to house the information I planned to collect. Not long after, I returned to Colorado and spent two weeks in Golden at the American Alpine Club Library, collecting and entering data about the world's highest peaks. I arrived when they opened each morning, and stayed until they closed each evening. Each evening, I would grab my daypack and go for an evening hike in the surrounding mountains. After collecting the core data, I mailed letters to national parks and tourism bureaus all over the world seeking royalty-free mountain photos, and my requests were met with an overwhelming response. In early 1997, Peakware World Mountain CD was released. It included profiles of the world's most famous mountains, with maps and photos, and most importantly - a search interface that enabled users to search for peaks that met their climbing or hiking preferences. I ran ads in Backpacker and Summit magazines. And I sold a few copies.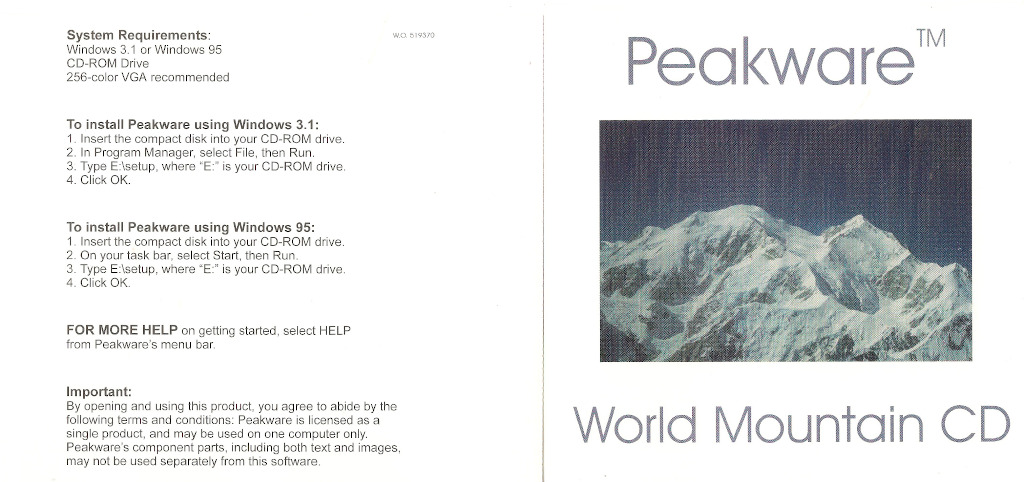 But I had a bigger vision. Spending two weeks in the AAC Library did not make me an expert. The experts were the people around the world who lived near these mountains, or the people who had already climbed them. I needed to tap into that collective community expertise. These were the early days of the World Wide Web, and I had already been building HTML web pages and contributing to conversations that were happening within the World Wide Consortium related to web accessibility. I knew what I had to do. I needed to publish Peakware to the Web, make it freely available to everyone, and invite users to contribute their knowledge and experience.
Peakware.com launched in June 1998. Its primary function, just like on the CD, was search. And this was three months before Larry Page and Sergey Brin launched Google on Stanford University's web servers (google.stanford.edu). Another key feature of Peakware was the ability for users to contribute content: They could add new peaks, edit data for existing peaks, submit trip reports, and upload photographs. And this was 2.5 years before Wikipedia. I earned revenue through commissions on the sale of guidebooks, initially as an affiliate of Adventurous Traveler Bookstore, and later as an affiliate of a new online bookstore called Amazon.com. I also earned revenue by selling ad space directly to outdoor recreation companies, but this required too much time for too little return. By then Google had moved beyond search into other areas, including advertising, so I signed on early to using Google Ads for most — and eventually all — of Peakware's advertising.
Once word got out, the community of active users grew rapidly, and by 1999 there were hundreds of users, and new content was being added daily. I spent hours each day reviewing user-submitted content, fixing bugs, adding new features, and communicating by email with users. There were dedicated users throughout North America, Canada, Australia, New Zealand, and the UK, plus other users from around the world. I had particularly memorable exchanges with many users in Europe, a member of the Maasai people in Kenya about mountains in his region, and a scientist stationed in Antarctica about the high peaks there. I loved being part of this global community of people who shared a love for mountains.
But I also had a full time job, was attending graduate school at the University of Kansas, and was a new first-time father. I was so sleep deprived I could take a 5-minute power nap and have vivid dreams before my alarm dragged me back to the waking world. In December 1999, overcommitted and utterly exhausted, I exchanged emails with Marshall Hall, President of Interactive Outdoors Inc. They were a small company of avid outdoor enthusiasts in Aspen, Colorado, who — like me — had been collecting big data about outdoor recreation for their flagship website, Wildernet.com. They were impressed by the dedication of the Peakware user community, and were interested in acquiring my website. The timing was perfect, we negotiated a deal, and I bid farewell to the site I had created.
For the next 20 years, Interactive Outdoors continued to own and control Peakware.com. We stayed in touch, and they hired me as an independent contractor to do most of the design and development work. Peakware continued to be a leading online resource for information about the world's mountains. Over the years, 10,000 users contributed content, including over 4,000 peaks, 8,000 photos, and 16,000 trip reports. Peakware became such a reputable source for mountain data that a "Peakware ID" field was added to mountain records in Wikidata, the data engine that drives Wikipedia.
But Peakware wasn't alone. Another site, Peakbagger.com, had been around about as long as Peakware had, and in fact shared a similar history to Peakware's. Both of these sites faced stiff competition from SummitPost throughout the 2000s, then from Peakery in the 2010s. Climbers were also turning to local and regional sites such as the ones I'm most familiar with in the Pacific Northwest: Cascade Climbers, The Mountaineers, and Washington Trails Association. And more recently, users have turned to dedicated mountaineering and climbing groups on Facebook and other social networking platforms.
Maintaining a popular website and keeping it relevant amid such competition is no small task. Traffic gradually decreased over the years, and advertising revenue decreased in proportion. In January 2019, Interactive Outdoors dissolved and Marshall returned Peakware to me. I kept it afloat for over a year, fixing bugs and adding features. Most notably, I did a massive data sync with Wikidata, bringing Peakware's database to 16,893 peaks, which I believe to be nearly every mountain in the world.
However, the bulk of my time in later years was consumed in seemingly endless battles with spammers. And with Google.
Continue reading