It's December 2015, the one-year anniversary since Google introduced its NoCAPTCHA ReCAPTCHA in a Google Online Security Blog post. As Google explained then, "On websites using this new API, a significant number of users will be able to securely and easily verify they're human without actually having to solve a CAPTCHA. Instead, with just a single click, they'll confirm they are not a robot."
The morning after Google's announcement, Derek Featherstone was first to post an assessment of The accessibility of Google's No CAPTCHA, and his initial response was one of "surprise, and maybe even a reserved delight."
However, the response throughout the accessibility community was not all positive, as reported on Adrian Roselli's blog post ReCAPTCHA Reboot, as well as in the comments on the WebAXE blog and posts to the WebAIM list.
In a nutshell, here's how Google ReCAPTCHA works:
First, Google harnesses all sorts of information about the user and analyses that to determine whether it feels the user is human. If it can make that determination with confidence, it provides a CAPTCHA that consists of a simple checkbox with label "I'm not a robot."

Next, if Google is not confident of the user's humanness, it provides a more challenging CAPTCHA, such as the one shown here: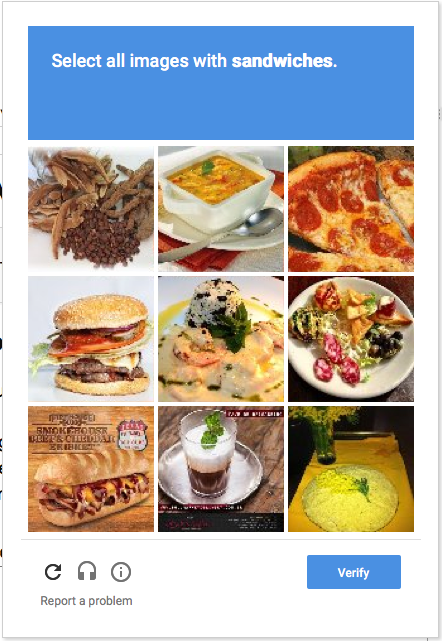 From my perspective, there's no reason why the single checkbox should be inaccessible. In fact, it's coded well for accessibility and it seems from my tests to work well with screen readers, speech input, and keyboard only.
However, things get more problematic if the secondary CAPTCHA is needed. But even here, I think Google has made significant improvement of this interface.
What is your experience? Please help me to collect data by filling out my ReCAPTCHA Test Form. I'm hoping to capture lots of data from the crowd and analyze the trends. I'll share the results in a few weeks.
My Experience
Here's an analysis of how ReCAPTCHA is coded, complemented with my experience using JAWS 17 in IE11. I also tested with NVDA 2015.4 in Firefox 42 and VoiceOver in Safari on both Mac OS X (El Capitan) and iOS 9, and get very similar results.
Continue reading