You may have seen the new holiday commercial from Apple featuring Stevie Wonder and Andra Day singing "Someday at Christmas", a beautiful and poignant holiday song for the times, with lines like:
Someday at Christmas
men won't be boys 
playing with bombs
like kids play with toys

and
Someday at Christmas
we'll see a land 
with no hungry children,
no empty hands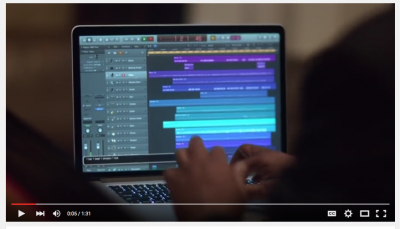 Stevie's using Logic Pro X on a MacBook Pro to do the mix (some online media sources have misreported the software as GarageBand—it's not).
The commercial opens with VoiceOver announcing: "Track 5 Vocals. Track 3 Piano." At that point Stevie seems to press a two-finger command then starts playing the piano. Presumably he's recording his piano onto Track 3.
Kudos to Apple for presenting accessibility so casually here. In a 90-second ad, only three seconds feature VoiceOver, and they never specifically mention accessibility. Stevie Wonder just happens to be doing the recording and mixing. It's a passing reference, no big deal. And it shouldn't be. It's just the way things are.
Watch the Ad
Is Logic Pro X really accessible?
After watching this ad I found myself wondering whether Logic Pro X is really accessible. Could Stevie do more than just identify the tracks and start recording? According to Keith Reedy, a blind musician and director of Bibles for the Blind:
"With each successive update they have made major improvements… I have done remixes with it. I have taken projects from the ground up with it. And Logic Pro X gives me a power I never thought I would have with a DAW or a digital workstation."
Keith and his wife Suzie host a very informative podcast series on using Logic Pro X with VoiceOver, including lots of detailed instructions and demos. I highly recommend it for any blind musician who's interested in digital audio production.
Stevie Wonder at CSUN
As an aside, I have to tell my own personal Stevie Wonder story. I've actually had many encounters with Stevie (or Steveland Morris, as he once introduced himself) at the annual CSUN International Technology & Persons with Disabilities Conference, which Stevie regularly attends. The coolest encounter was in 2007, when the conference was still held in the Los Angeles Airport Marriott (it has since moved to San Diego). On Saturday morning after conference activities had all but ended, I was lounging in the Marriott lobby at about 2:30pm, relaxing in a comfy chair near the piano, when Stevie and his two companions made their way over to the piano, and Stevie took a seat on the piano bench, took stock of his bearings, and began to play. Initially he played some very cool improvisational jazz. I remember being impressed, but not really surprised, by his jazz piano chops. Gradually a small crowd gathered, and once he had a sizable audience he began to play and sing "You are the Sunshine of My Life" with all his heart and soul. All this happened ten feet away from me, and didn't cost a penny. When he was done he stood up, and said "See ya!" as he made his way out the front door with his two companions.
Happy holidays! Wishing you all the best in 2016!